Samsung's Galaxy Z Flip5 is a beautifully built, fantastically powerful foldable flip phone – but I'm genuinely split as to whether it's the best flip foldable you should buy.
| Pros | Cons |
| --- | --- |
| The most powerful Flip phone you can buy right now | Battery life is better on on other flip foldables |
| Larger cover screen widgets are quite handy | But they're not full and free Android apps |
| Flatter folding design hinge is really nice | But it still lacks stated dust resistance |
Score: 4/5
Full honesty time; for the longest while I wasn't much of a fan of the "flip" style of foldable phones, even though I enjoy the category as a whole.
I could see the style appeal, but that wasn't enough for me to make me a fan of paying premium prices just for a phone that got a little smaller in your pocket. If I was going to pay premium money, I wanted more.
More in the case of foldables tended towards the tablet type epitomised by Samsung's Galaxy Z Fold5 and its predecessors.
Then I reviewed the Motorola Razr 40 Ultra. Its approach to external display possibilities did change my opinion somewhat. If you gave me the outright choice I'd still go large… but I could see more of a point to flip foldables.
Also read:
Motorola Razr 40 Ultra Review
Samsung wasn't about to sit still and let Motorola take over its market, however, which is how we get to the Samsung Galaxy Z Flip5. Like the Razr 40 Ultra, it features an expanded cover display with extra functionality compared to its predecessors, but it's paired up with a much better processor and refined design as well… for a slightly higher price.
Does that make it the must-have flip foldable?
Maybe. Read on.
Design
The Galaxy Z Flip5 is, as the name suggests, Samsung's fifth take on a flip foldable. It does have competition in this space – primarily in Australia through Motorola – but it's also definitely got the first mover advantage in this space given it's five generations in.
For many companies, that's a point where you either get comfortable with a design, or make radical changes.
Samsung, oddly, has done both. In terms of small refinements – though I suspect they were less than small engineering challenges – the Galaxy Z Flip5 features the same new hinge as seen on the Galaxy Z Fold5 with a proper fold-flat action. It's a more solid and robust feeling hinge that leads to a more aesthetically pleasing edge on the phone.
Let's be realistic here; that's a nice thing to have but how long do you really spend staring at the sides of your phone on a daily basis? Exactly.
The big radical change here is the expansion in the cover display (or "Flex Window" in Samsung-speak). The Galaxy Z Flip4 featured a 1.9 inch cover display, but for the Galaxy Z Flip5 it's been bumped up to a nearly square 3.4 inch display. With that increase in size comes a pretty radical increase in the functionality of the Galaxy Z Flip5 when folded down… but more on that later.
Also read:
Galaxy Z Flip4 review (Finder)
The Samsung Galaxy Z Flip5 measures in at 165.1×71.9×6.9mm when unfolded and 85.1×71.9 x15.1mm when folded up. Either way, it's a 187g phone, because it's not like it loses mass just because you can fold it in half. The primary internal screen measures at 6.7 inches with a Dynamic AMOLED 2x display that supports up to 120Hz refresh rates and a resolution of 2640×1080. Meanwhile on the cover display, you're talking a more sedate 3.4 inches, 720×748 pixel Super AMOLED at 60Hz.
One area where the Galaxy Z Flip5 has a definite edge over its Motorola rival is in colour choices. The Razr 40 Ultra ships in just three colour hues, but the Galaxy Z Flip5 manages a total of eight. Half of those (Grey, Blue, Green and Yellow) are Samsung online exclusives, while the other four (Mint, Graphite, Cream and Lavender) are available more widely.
Samsung loaned me a mint model. It's a rather light green hue that I personally think rather looks a little too much like toothpaste, but as always tastes and opinions can vary on these aesthetic matters. As yet, there's no sign of Samsung doing "bespoke" Galaxy Z Flip5 orders as it has done for prior flip generations.
While Samsung has refined the physical design of the Galaxy Z Flip5 nicely, it hasn't made any significant changes to its durability in terms of stated IP resistance. Samsung does deserve credit for having the first foldables on market with any level of IP resistance at all, but for the Galaxy Z Flip5 it's still running with IPX8 water resistance.
It's a tricky comparison to make against the Motorola Razr 40 Ultra, because that's a phone that's got IP52 rated resistance. If you're staring at those numbers with confusion in your mind, let me explain.
The IPX8 rating on the Galaxy Z Flip5 means that you can fully immerse in clean lab water and expect it to survive, but Samsung doesn't give any assurances about dust ingress. Meanwhile, the IP52 rating on the Razr 40 Ultra means that it's only protected against sprays of water (think: rain) but also that it has tested and verified dust ingress – albeit at a limited level, IP62 would be total dust protection to be clear.
So which is better? I tend to think that most of us do try to protect our phones from drowning generally, but dust is everywhere, so I'd say the Motorola takes that battle. Ideally you don't want to cripple your phone either way, but it would be great if Samsung was able to further seal up its foldables to a level where it also had protection against sand, grit and all the other detritus of life.
Camera
The biggest tradeoff in my estimation for all of the flip phones made by anyone to date has been in cameras. You're paying quite premium money for the Galaxy Z Flip5, but comparatively against what you could get in a non-foldable phone, you end up with cameras that are just OK.
That's been the story to date, and at least at a quick glance, the Galaxy Z Flip5 would appear to fit that description too. At what ends up being the "back" of the phone you've got dual 12MP (wide/ultra-wide) lenses, while the "front" of the phone houses a 10MP sensor.
When the Galaxy Z Flip5 is folded down, that "front" camera goes with it, leaving you with two "front-facing" cameras, in effect. That does give you a little more flexibility for matters like shooting wide group selfies… but still, this doesn't compete all that well against the best that Samsung can offer in its standard Samsung Galaxy Range at this price.
What's important to decide here is just how important that might be to you. The Galaxy Z Flip5 shoots most shots well enough, and while I didn't have a Flip4 to hand to do comparative night shooting, it did seem to pick up a little better in low-light situations than its predecessor did.
It is still the biggest compromise you're going to face with foldable phones, and Samsung certainly isn't alone in this. If you crave photographic complexity or proper telephoto zoom capabilities, buy an S23+ Ultra instead.
Samsung Galaxy Z Flip5 Sample Photos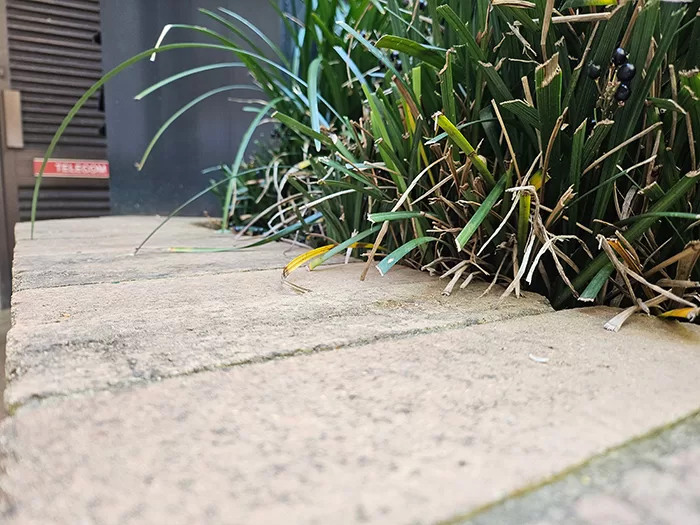 Performance
Like the Galaxy Z Fold5, the Galaxy Z Flip5 is powered by a Qualcomm Snapdragon 8 Gen 2 processor, paired up with 8GB of RAM and either 256GB or 512GB of fixed storage; the model I tested with which was loaned to me by Samsung Australia was the 256GB variant.
That's currently cutting edge for any Android phone, and there's no doubt that this makes the Galaxy Z Flip5 the most powerful flip phone you can buy, above the Razr 40 Ultra for certain.
To give that a comparative picture, here's how the Galaxy Z Flip5 compares using Geekbench 6's CPU test, though I only have a handful of available foldable models to compare it with for this test:
There's not a huge gap there between the Motorola and the Samsung, but it's far more pronounced at a GPU level, where the Galaxy Z Flip5 seriously outperforms it on 3DMark's Wild Life Extreme Test:
The GPU isn't just for gaming because it's responsible for all of the Galaxy Z Flip5's graphical output, and the practical effect of its expanded power is that it's a slick and very useable smartphone for general app usage. There's still only a handful of app that work with the phone half folded, such as the camera app or YouTube, however.
The Galaxy Z Flip5 runs Android 13 with Samsung's own OneUI on top of it. I personally prefer a basic Android approach, but in the launcher space OneUI is one of the better alternatives out there, and typically quite well suited to Samsung's phones. Samsung is promising four years of Android OS upgrades with the Galaxy Z Flip5 and five years of security updates, which is absolutely market leading for a non-Google Android maker right now, and highly laudable.
Then there's the matter of what you can do with that expanded cover display, or "Flex Window" in Samsung-speak.
Officially speaking, the Galaxy Z Flip5 only supports Samsung's limited suite of pre-approved widgets on the Flex Window.
They cover a decent array of the kinds of quick tasks you might want to do with the phone still folded. The larger size of the screen relative to older Flip models means that matters like keyboard entry are a lot simpler, and it all works reasonably well, within those limited constraints.
Those constraints did annoy me, however, simply because the Motorola Razr 40 Ultra doesn't have those limits at all. Got an Android app you want to run on the Razr 40 Ultra's cover screen? It might not fit well – but you can officially try.
Samsung, at least officially speaking, doesn't entirely want to you to try.
Or does it?
There is a way to get a wider suite of apps running on the cover screen, via an app that's downloadable through the Samsung Galaxy store called Good Lock. Good Lock has been around for quite a while now as a OneUI tweaking app, and a lot of sites will suggest that it's made by Samsung itself.
I think they're wrong – if you look at the information for Good Lock, it's coming out of a company called Good Lock Labs, not Samsung itself within the Samsung Galaxy Store. Samsung's own apps bear Samsung Electronics branding, so I strongly feel this is third party software.
It does work, and I could get other apps running on the cover screen, but this is a hack, not an approved way to get it done. Given that it does work about as well as the Razr 40 Ultra, I don't really know why Samsung didn't include that functionality as standard, though it does also make me wonder if they could stop it working after a time or a software update.
On balance, for that kind of usage, I'd rather stick with a phone that actively wants me to run full Android apps on its cover screen, rather than one where I have to install third party software to make it happen.
Battery
The Galaxy Z Flip5 features a sealed 3,700mAh battery, the same immediate size as its predecessor, the Galaxy Z Flip4.
By modern Android standards 3,700mAh is on the smaller side, and for whatever it's worth, it's 100mAh less than the competing Razr 40 Ultra too.
All of which might be moot if the Snapdragon 8 Gen 2 under the hood can deliver on some of Qualcomm's power promises in terms of expanded battery life. Battery usage is always relative, every single time, but to give that some context I run every phone I test through the same basic test, streaming a 1 hour 1080p YouTube video at maximum brightness and moderate volume from a full battery.
What I'm looking for here is at least 90% battery life remaining, because in my general testing, I find phones that go over that number are a good bet to last at least a single day's moderate usage. Every percentage point above 90% can mean a lot of extra hours, but phones that can't meet that 90% barrier are often those that you're going to struggle with.
Here's how the Galaxy Z Flip5 compared against its competition and predecessors:
It's pleasing to see Samsung continuing to improve its battery performance year on year, but I can't ignore the fact that Motorola's competing foldables do it just a little bit better again.
You're not likely to run out of power on a daily basis with the Galaxy Z Flip5, though you will need to supply your own charger to top it up – either USB-C at up to 25W or Qi Wireless at up to 10W. It also supports reverse wireless charging of other Qi devices, though with only 3,700mAh to play with I wouldn't be relying on that too often if I were you.
Galaxy Z Flip5: Alex's Verdict
As I mentioned in the introduction, I'm genuinely a bit torn about the Galaxy Z Flip5.
On the one hand, it is the most powerful Android Flip phone you can buy, easily outpacing the Motorola Razr 40 Ultra. It has a wider colour choice for the style crowd, the refined design is just a bit nicer and the expanded cover display widgets work well, especially if you also add in the Good Lock app.
However, it's less physically robust given the lack of dust resistance, it's more expensive, its battery life isn't quite as good and its cameras do not compare well against what you can get at this price point in a standard phone.
My preferences do remain with the larger foldable phones at a personal level, but Samsung has done good work here. If you're considering a flip foldable, it's definitely worth consideration.
Galaxy Z Flip5: Australian Pricing and availability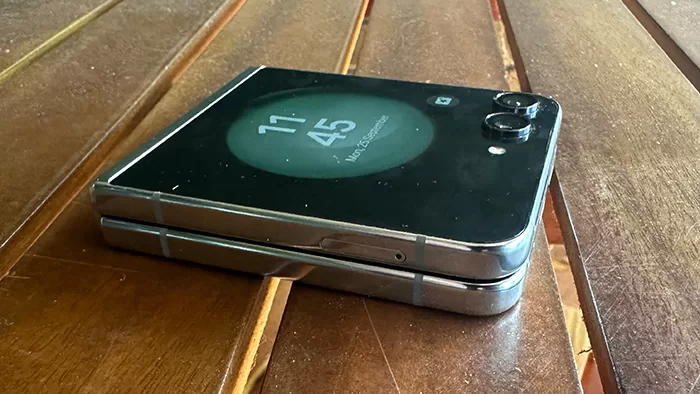 The Samsung Galaxy Z Flip5 retails in Australia with pricing starting at $1649 for the 256GB model or $1849 for the 512GB variant.