Don't discount the Fitbit Charge 6 as just another fitness tracker. For many, it could easily — and affordably — replace your smartwatch.
| Pros | Cons |
| --- | --- |
| Very comfortable to wear | Some features locked behind subscription |
| Great battery life | YouTube Music is the only supported app |
| Covers all the basics well | Notifications are a touch difficult to set up |
Score: 4.5/5
The Fitbit Charge 6 landed on my review desk at the same time as the Google Pixel Watch 2 and just after the Apple Watch Ultra 2.
Compared to those two titans of the smartwatch space currently, I kind of felt like the Fitbit Charge 6 would compare poorly – so it dropped down my review priority list. After all, it was just a Fitbit fitness tracker, and Google's thrown much of the best of that platform into the Pixel Watch 2.
I'm honest enough to admit I was wrong.
Having tested it out, I'm deeply impressed with what it offers for its asking price. Like that OG Pebble, there are a few rough edges, but it's also a fraction of the price of a "full" smartwatch while still offering the essential features that most smartwatch owners will want.
It's also a device that (mostly) works cross-platform, an increasing rarity in today's smartwatch world.
It should come as a shock to absolutely nobody that I'm a big fan of smartwatches. I really do like a good smartwatch, and have done ever since I first strapped an original Pebble to my wrist.
I'd like to pause here for a brief second to pour one out for the mighty and late lamented Pebble, because it really was a device before its time that did the core things you need a smartwatch for very well indeed, from simple notifications to exceptional battery life.
Also it was just plain fun to have at the time, because while Pebble didn't invent the smartwatch (don't get me started), it was unlike much else you could buy at the time.
I bring the Pebble up because while it was fantastic for the most part, it was also limited in other ways — and that's a pretty good description of the Fitbit Charge 6 too.
Design
The Fitbit Charge 6 is built around a 1.04 inch colour AMOLED display, unchanged – at a specs level, I never tested it – from the Fitbit Charge 5. The big physical design change here is the inclusion of a haptic home button, letting you relatively quickly return to the home screen from most activities, where the Charge 5 apparently only had a touch-sensitive area.
Given how much I dislike tap controls on devices like true wireless headphones, this feels like an upgrade to me even though I've not tested the earlier model.
In Australia, Google (who now own Fitbit, remember) sells the Fitbit Charge 6 in three different colour variants. You can pick from Porcelain/Silver Aluminium, Coral/Champagne Gold Aluminium or Obsidian/Black Aluminium. It's the latter that Google sent me for review.
Black is pretty much the everyday colour for just about any tech gadget you'd care to name, but it's also nicely unobtrusive as a result, working nicely with just about any clothes combination.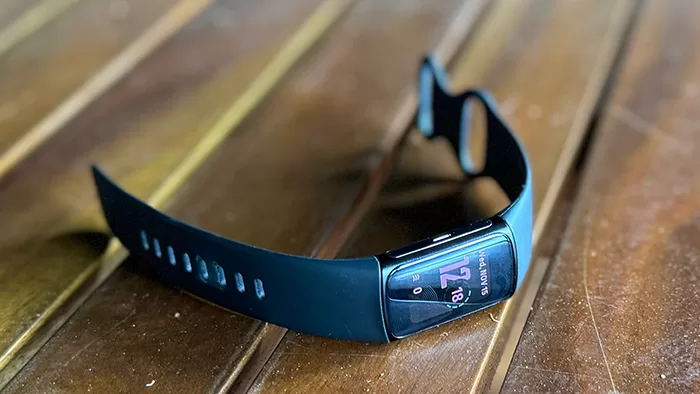 I do still have a slight preference for a "watch" style device rather than the band style of the Fitbit Charge 6, but that's a 100% subjective matter. If you don't like the look of a watch, this could be ideal for you.
The vertical screen sensibly lays out information relative to the task at hand, with the option to zoom in at either 2x or 3x magnification if you enable that in the settings app.
Performance
As you might expect out of a Fitbit device, the Fitbit Charge 6 runs via the free Fitbit app for Android or iOS.
However, this is Google's most Google-fied of the Fitbits to date. Yes, it does the regular stuff like fitness tracking, heart rate tracking (with a new sensor, no less), stress tracking and ECG, but it's accentuated with a range of Google specific activities.
As an example, if you're using Google Maps and you've got a Fitbit Charge 6 paired to your wrist, it'll get Google Maps notifications for turns and the like on your wrist. You can't start map searches from the Fitbit Charge 6, but you can certainly use it for easy hands-free navigation support.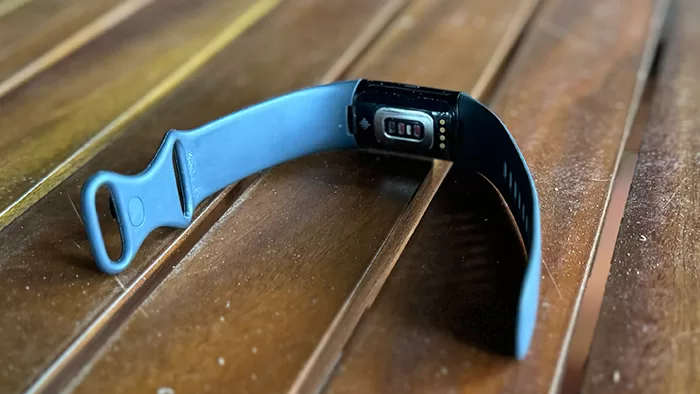 Likewise, on the music front, the Fitbit Charge 6 can act as a controller for YouTube Music. Here, while it's well within the Google ecosystem it feels a lot more limiting, because it handles music controls for YouTube Music only.
Not spending $12.99/month on YouTube Music or $16.99 on YouTube Premium? Sorry, no music control for you. Here I would have liked to see Google open up audio control just a little bit wider.
The Fitbit Charge 6 is also NFC capable for contactless payment. Fitbit has its own platform for this for many of its wearables, called Fitbit Pay. Fitbit Pay's supported by a reasonable number of Australian banks and Credit Unions… but the Fitbit Charge 6 doesn't use Fitbit pay.
Instead it integrates directly with Google Pay for your tap and go bottle of water after that punishing ultramarathon. Or cheesecake, it doesn't care. Google Pay in this context is a pretty big upgrade, if only because it's supported by a lot more Australian financial institutions.
It is worth checking if your financial institution supports either Google Wallet  or Fitbit Pay before buying if this is important to you, because the Fitbit Charge 6 only supports Google's payment platform, not the Fitbit native one. Yes, I know, that's weird given Fitbit is owned by Google, but there you go.
The Google feature set aside, the Fitbit Charge 6 keeps matters mostly simple, with a side swiping gesture to access tiles for notifications, exercise, alarms, timers, EDA Scan, ECG, Google Maps and YouTube Music.
Exercise is mostly well handled, with the small proviso that the vertical screen can make scrolling to some exercise types a little bit more of a chore than you might like. There's also the option to have it automatically detect workouts such as running.
That's not a unique feature for this particular device, and previously I've found it super useful for those times when I've started a run, brain focused on one foot in front of the other – I'm told that's good for running – only to realise that I forgot to start the timer on it.
The one catch I hit here with the Fitbit Charge 6 came with a parkrun where it decided a warmup walk before the run was part of the run, putting me quite ahead of where I was and declaring my 5km done when I still had a painful hill climb to go. You can at least disable run detection if it's not for you.
I did also rather like the gentle pestering of the Fitbit Charge 6 to get up and move every once in a while. Again, not unique to this device – Apple Watches are pretty notorious for it – but putting a number to my steps needed gives me that little bit more impetus to actually get up and into it.
Like the Pixel Watch 2, the Fitbit Charge 6 gives you basic fitness metrics for free, but if you want advanced features like a daily readiness score or advanced sleep metrics, that'll be another $14.99/month out of your wallet once the six months you get with the Fitbit Charge 6 is exhausted.
I can somewhat accept that access to training regimens and the like might incur an additional cost, but analysis of data you're already giving the watch? No way; I don't like that this is locked behind a paywall and I never will. If all you want is the basics, however, that may not matter.
Fitbit's sleep tracking is interesting. It's certainly not foolproof. Like many sleep trackers it can't really tell if I'm lying in bed staring at the ceiling or just lightly asleep, so its timing was slightly off most mornings, but not by much.
The smaller and lighter size of the Fitbit Charge 6 did make it a much more comfortable tracker to wear while sleeping than many full smartwatches I've tested in this way over the years, however.
Notifications are another key area for me with wearables, and here the Fitbit Charge 6 can work quite well, but not without you having to do a little work upfront. For many smartwatches (and some trackers) any notifications your phone gets will be mirrored to your wearable.
That's not the way that the Fitbit Charge 6 thinks. Instead you have to enable notifications, and then enable them on a per-app basis. It's more granular, which is perhaps desirable for some app types, but it did leave me a little befuddled for a while as to why some notifications weren't appearing at all.
Because at its heart the Fitbit Charge 6 is just a fitness tracker, there's also no way to do all that much with most notifications except look them up on your phone after the fact. If you're pairing the Fitbit Charge 6 with an iPhone, you can't even send quick responses to texts from the Fitbit Charge 6, but you can if it's paired with an Android phone.
Battery

Google doesn't specify a battery capacity for the Fitbit Charge 6, but it does suggest that it's capable of "up to seven days of battery life".
"Up to" figures must always be taken with a grain of salt, because they leave a lot of room for interpretation, especially for more advanced trackers and smartwatches.
Still, while I've been testing it out, it's come quite close to that seven day figure a lot of the time. I'd say that six days is more reasonable to expect, and that's a very good figure, because it means you really only need to charge it once a week from its supplied charger.
That's the typical Fitbit pogo pin affair, which I don't love. Proper Qi wireless would be better, but I can accept that this isn't likely at this price point.
Fitbit Charge 6: Alex's Verdict
I drew a comparison at the start of this review to the old school Pebble for a reason. The Pebble did a few things only, but it did them very well.
That's exactly what the Fitbit Charge 6 does. For many people who don't need the full bells and whistles of a smartwatch, or more critically the price points they command, this could be ideal, because it covers the basics very nicely.
If you just want basic notifications, good fitness tracking and contactless payments – and you're happy with Google Wallet for doing so – at $259.95 it's an excellent prospect.
Fitbit Charge 6: Pricing and availability
The Fitbit Charge 6 retails in Australia for $259.95.
The model tested was sent to me by Google Australia for the purposes of review.